Spain, 2014 / 07:00 min. / B&W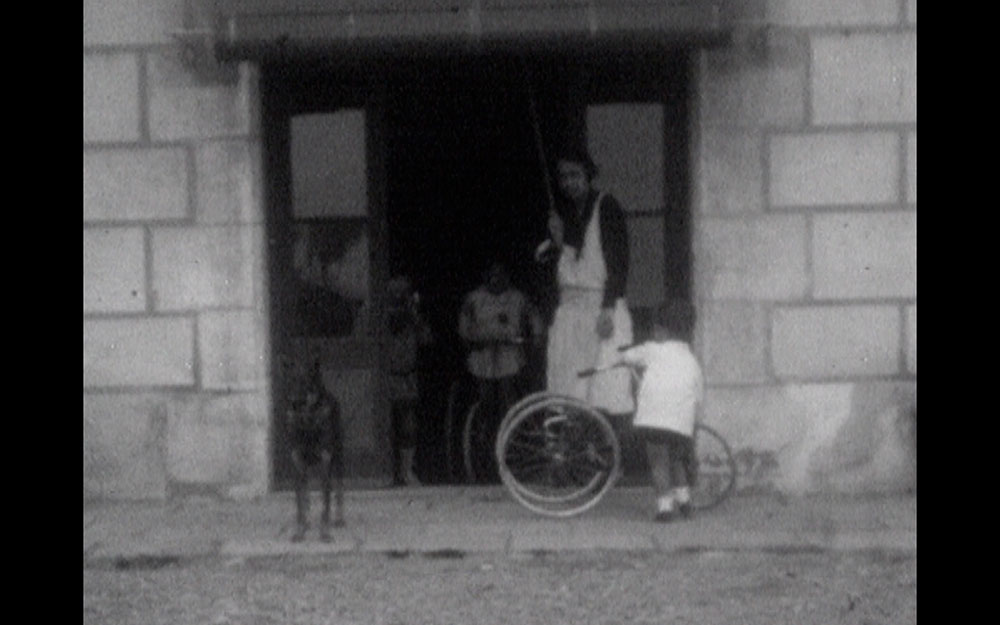 War as a preposterous and absolutely masculine fiction -as well as the educational and occupational exclusion of women in a society that educates them to serve and be mothers- is repudiated by Virginia Woof in Three Guineas.
The Civilization Desire is a piece that appropriates family movies filmed in Spain during the Republic, the Civil War and the early years of Francoism.
The home movie becomes an alternative chronicle to the great stories, that reveals social differences and gender stereotypes learned from childhood, in the civilization of strength, despised by Woolf.
Credits
Written and Directed by: Carolina Astudillo Muñoz
Editing: Georgia Panagou
Additional Editing: Ana Pfaff
Assistants Editor: Ana Ugarte / Francisco Rubio / Estel Roman
Voice: Segi Dies
Musicians: Diego Mune / Charlie Braesch / Charlie Sid / Claudia Cervenca / Fanny Menegoz / Karsten Hochapfel / Miguel Arcos
Sound Editing: Alejandra Molina
Color Correction: Ana Izquierdo
Screenings
ALCINE Festival Internacional de Cine (Madrid, Spain. 2018)
Cineteca Madrid – Hacia la huelga feminista (Madrid, Spain. 2018)
Porto Femme International Film Festival (Porto, Portugal. 2018)
XIII Muestra de Cine Con Nombre de Mujer (Spain, 2016)
Instituto Cervantes de Athens (Athens, Greece. 2016)
Instituto Cervantes de Belgrade (Belgrade, Republic of Serbia. 2016)
Instituto Cervantes de Belo Horizonte (Belo Horizonte, Brazil. 2016)
Instituto Cervantes de Brasília (Brasilia, Brazil. 2016)
Instituto Cervantes de Bucharest (Bucharest, Romania. 2016)
Instituto Cervantes de Budapest (Budapest, Hungary. 2016)
Instituto Cervantes de Bordeaux (Bordeaux, France. 2016)
Instituto Cervantes de Casablanca (Casablanca, Morocco. 2016)
Instituto Cervantes de Curitiba (Curitiba, Brazil. 2016)
Instituto Cervantes de Stockholm (Stockholm, Sweden. 2016)
Instituto Cervantes de Fez (Fez, Morocco. 2016)
Instituto Cervantes de Lisboa (Lisbon, Portugal. 2016)
Instituto Cervantes de Marrakech (Marrakech, Morocco. 2016)
Instituto Cervantes de Moscow (Moscow, Russia. 2016)
Instituto Cervantes de Naples (Naples, Italy. 2016)
Instituto Cervantes de Nicosia (Nicosia, Cyprus. 2016)
Instituto Cervantes de New York (New York, United States. 2016)
Instituto Cervantes de Palermo (Palermo, Italy. 2016)
23ª Mostra Internacional Films de Dones. Barcelona (Spain, 2015)
XV Muestra de Cine Realizado por Mujeres de Huesca (Spain, 2015)
Cineteca Madrid (Section La lucha de la memoria y mujer programada por DOCMA. Spain, 2015)
L'Alternativa, Festival de Cinema Independent de Barcelona (L'

Alternativa

Hall Section. Spain, 2014)
Zinebi, Festival Internacional de Cine Documental y Cortometraje de Bilbao (Official Selection. Spain, 2014)
Alcances, Muestra Cinematográfica del Atlántico (Official Selection. Spain, 2014)
Jihlava International Documentary Film Festival (Fascinations Section. Czech Republic, 2014)